Construction of low-voltage systems for Casablanca's tram lines is set to start soon in Morocco, after Casa Transport SA awarded a 15 million euro contract to French company Colas Rail, a leader in rail infrastructure.
The new agreement is said to cover studies and installation of low voltage systems on the tracks, installation of video surveillance and public address systems, surveillance control and data acquisition, multi-service network, time synchronization, as well as telecommunications within thirty months.
Look for construction leads
Also Read: Nigeria-Niger (Kano-Maradi) Railway Construction Project Updates
This contract follows those previously won in 2021 for electrification (catenaries and electrical substations) as well as the laying of railway tracks for the central section of the two Casablanca tramway lines, T3 and T4.
These two lines should contribute to the public transport options offered in Morocco's most populous city, which has around 4 million inhabitants. Line T3 will have 20 stations on a 14 kilometer double-track platform, while line T4 will have 19 stations on a double-track platform.
The French Development Agency (AFD) is said to be providing a loan of 100 million euros for the new line extensions, and the International Finance Corporation is also providing a loan of 100 million dollars.
Casablanca tramway lines contract with Colas Rail
This new contract, according to Hervé Le Joliff, Chairman of Colas Rail, demonstrates that Moroccan local authorities and Colas Rail maintain a genuine relationship of trust.
He said his team is fully dedicated to providing an integrated, reliable and safe system to their historical partner, in reference to previous projects for the Casablanca tramway.
France's Colas Rail is said to be involved in all tram system construction projects in Morocco since its creation in 2008, including the Rabat-Salé 1 and 2 tram lines and their extensions, as well as the Casablanca T1 and T2.
September 2015
Launch of the construction of the second line of the Moroccan tramway
The construction of the second line of a Moroccan tramway was launched at the beginning of this month.
The 15-kilometer Moroccan tramway (T2) will connect Ain Diab to Ain Sebaa station through the El Fida and Derb Sultan districts.
According to the Deputy Client of Casa Transport, the project is pleased to serve Hermitage, Mers sultan, Derb Kabir, Hay Al Amal, Hay Al Farah, Hay Tissir, Hay Jamal, Laayoune, Hay Massira, Hay Mohammadi, Dar Lamane, El Badr and should be completed within the shortest time that has already been set.
He added that the second line will serve heavily populated areas estimated at 0.5 million people.
The project involved the construction of the first line which currently serves Sidi Moumen to the east with Ain Diab and the Faculties district to the west.
The cost of the project is estimated at around 3.7 billion dirhams, with the first phase of the project costing nearly double the cost of the second phase.
Depending on the resources, the project will be financed by the Urban Commune of Casablanca, the Grand-Casablanca region, in addition to funds from France.
"The works of the second line will be ready at the end of 2018," said Casa Transport.
The Casablanca tramway network should cover 110 kilometers by 2022.
January 2020
Morocco to receive US$100 million for light rail and road projects
Morocco is set to receive US$100 million in financing from the International Finance Corporation (IFC) for the construction of two tram lines and rural road projects in the Casablanca-Settat region. The financing agreement was signed between the president of the regional council of the Casablanca-Settat region, Mustapha Bakkoury, the general manager of Casa Transports, Nabil Belabid and the vice-president of the IFC for the Middle East and Africa, Sergio Pementa.
Project details
The funding will see the expansion of tram service through the construction of the two lines. The expansion will add 39 stopping stations and 26 km of tracks to the existing tram network. When completed, travel time will be reduced by 40%.
Also read: The construction of the Tiznit-Dakhla highway in Morocco is on track
Work on the lines will be carried out by the local company Casa Transports, which specializes in infrastructure and urban transport works. This project requires a total investment of US$728.3 million and the government plans to mobilize the remaining amount from private and public financial institutions.
Government transport strategy
Some of the money is also earmarked to improve rural roads in remote communities. This will in turn connect over 400,000 residents to school, hospitals and other services. The infrastructure should be commissioned by 2022.
The Kingdom of Morocco plans investments of approximately US$25 billion in road construction until 2035. The Moroccan government has announced that more than 5,500 km of new highways and highways are to be built through this investment. In addition, 45,000 km of new rural roads will be constructed while over 7,000 km of rural roads will be upgraded.
November 2020
Casablanca tramway, Morocco: Casa Transport signs a loan agreement for the construction of two new lines
Casablanca Transport en Site Aménagé SA (Casa Transport SA), a local development company (SDL) responsible for the "sustainable and inclusive development" of Casablanca, the economic capital of Morocco, has signed a loan agreement of more than 121 million dollars which will be supplemented by a technical assistance grant of approximately US$606,000, with the French Development Agency (AFD) for the construction of two new lines (T3 and T4) of the Casablanca tramway.
Line T3 will be built from Boulevard Abdelkader Essahroui to Casa Port Station via the city center, a distance of approximately 14 kilometers. This line will have twenty stations and five multimodal exchange points. Line T4 will cover a distance of 12.5 kilometers from Boulevard Okba Ibnou Nafiaa to the Arab League Park via Boulevard Mohamed VI. It will have nineteen stations and four transfer points.
Also read: Construction of an underground passage in Morocco to relieve traffic congestion in Rabat
With a total investment of over US$771 million, the two lines will be built simultaneously and are expected to be commissioned in 2024.
A decisive step in Casablanca's urban transport plan
Nabil Belabed, the General Manager of Casa Transport said that the implementation of this project is an important step in Casablanca's urban transport plan. "The long-term objective of the project is to provide a high-quality public transport network that is as wide as possible and which offers efficient intermodality with other modes of transport," explained Belabed.
According to the Director of AFD in Morocco, Mihoub Mezouaghi, the project also aims to promote suitable access for people with reduced mobility but also safer access for women to public transport, thus helping to facilitate their greater economic inclusion and social.
"Today, the tramway is the preferred mode of public transport in Casablanca. Currently, on the T1 and T2 tram lines, 49% of users are women," he said.
May 2021
The T3 and T4 lines of the Casablanca tramway in Morocco are taking shape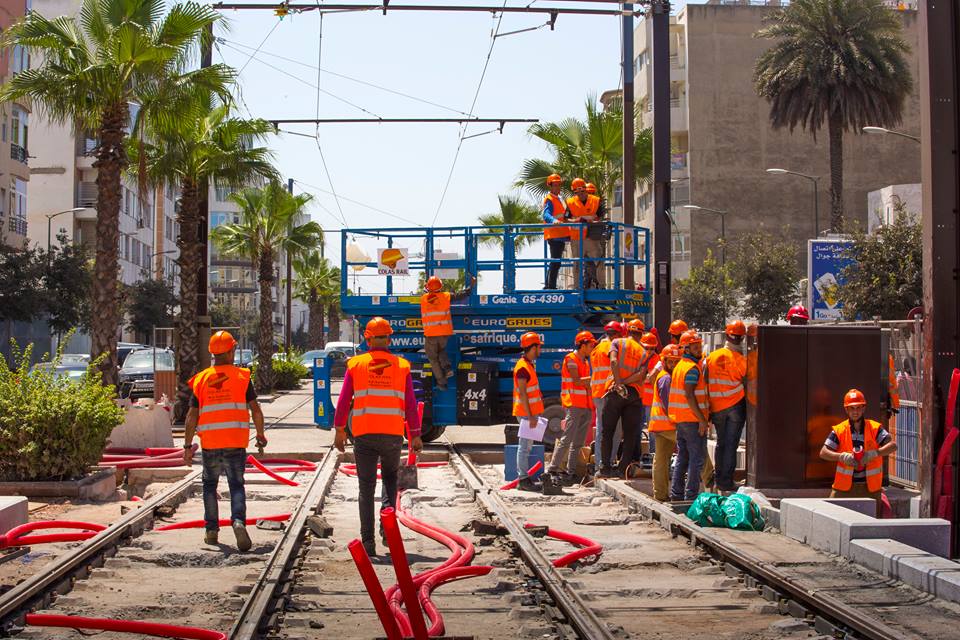 The third and fourth lines of the Casablanca tramway in Morocco are taking shape following the start of welding work on the first railway tracks at Bd Mohammed VI between Bd la Résistance and rue Ifni.
According to Casablanca Transport en Site Aménagé SA (Casa Transport SA), a local development company (SDL) responsible for the "sustainable and inclusive development" of Casablanca, the economic capital of Morocco, this is the first step in a long series since it will take a total of nearly 7,000 similar welds to connect all of the 110,000 linear meters of the project. The company specifies that each welding operation, connecting the railway tracks every 12 to 18 meters, requires great technicality and lasts approximately 50 minutes.
Read also: The longest bridge in Morocco, the Laayoune bridge will be inaugurated in 2022
This stage of the project will be followed by other stages of development ranging from rolling stock testing to dry running in real traffic conditions.
An overview of the T3 and T4 lines
Eventually, the T3 line will be 14 km long with a total of 20 stations and 5 connection points with the T1, T2, T4 and BW1 lines. It will serve the terminus axes Bd My Abderrahman (towards Port Casa station), rue Ibnou Majid El Bahar, rue Smiha, bd Strasbourg, bd Mohammed VI, bd Idriss Harti, Bd Idriss El Allam, bd Abdelkader Essahraoui, avenue 10 mars, terminus terminus street 1.
Extending over a distance of 12 km, line T4 will have 19 stations and 4 connection points with lines T1, T2 and T3. The line begins in the city center at bd Moulay Youssef (Arab League Park) and continues its trajectory rue Allal El Fassi, rue Rahal Meskini, Place de la Victoire, rue Barathon, rue Capitaine Puissesseau, Route des Oulad Ziane, A3 crossing at level, avenue 10 mars, Avenue Anoual / Rue du Nil, bd Idriss el Allam, bd Idriss El Harti, Terminus bd Okba.